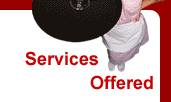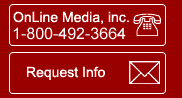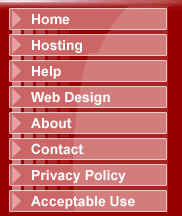 Need a quote on a web site? Let Online Media help. Click here and fill out our web site questionnaire.
Why Choose Online Media to create your web site?
Since 1995, Online Media has provided businesses with a positive and effective online presence.
Our experienced Web site designers, programmers, and graphic artists will work with your company in developing an attractive and functional Web site or application.

The newest generation of development tools allows engineers and programmers to create "Web Applications". One of the most important fundamental differences between a Web Site and a Web Application is in the way content is maintained. Static Web Sites typically require that the content be programmed into the actual Web Site itself, meaning it requires a programmer to manipulate data, images and other content. Dynamic Web Applications, on the other hand, are typically developed in a manner to allow you to maintain your content with minimal technical knowledge. The biggest advantage of this is that as your business changes, your Web Site can be updated IN REAL TIME through a word processor type interface - from almost any computer with Internet access!

And That's Not All
In recent years, more and more enterprise applications are developed as Web-based programs, as opposed to stand-alone executable applications. Typically, developing Web-based applications is significantly less expensive than developing stand-alone client-server applications, and can offer just as much functionality. At Online Media, we use our extensive experience in developing Web applications to create cutting-edge, industry-leading Intranet and Extranet applications. From custom content management systems, advanced database applications, to industry-specific enterprise programs, Online Media can fulfill your needs. Fill out our questionnaire for a free quote!

Whether you need a new Web site, a redesign of an existing site, or an enterprise application, Online Media will walk you through the process step by step to maximize the return on your investment. Follow the industry leaders - choose Online Media as your Web services provider.
Portfolio

PRSA Buffalo / Niagara Chapter
PRSA is the world's largest organization for public relations professionals. Its nearly 20,000 members, organized into 116 chapters, represent business and industry, technology, counseling firms, government, associations, hospitals, schools, professional services firms and nonprofit organizations.

RW. Caldwell Associates, Inc.
CPI/RWCA provides corporate-sponsored career transition (outplacement) services for individuals and groups of employees who are seeking new employment opportunities. The career transition process includes training in the job search process, assistance in writing resumes, interview skills development, office space, and administrative support. Though an entirely separate product, spouse relocation assistance falls under this division due to its similarity to career transition.

SSDiesel Supply
was formed in 2003 by Walt L. in Tonawanda, NY USA. Tonawanda being the home of one of GM's largest engine plant, Tonawanda Walt's 1972 Chevelle With 5.7L Diesel!Engine, home of the "Big-Block Chevy", Walt grew up a motorhead building countless hot rods, musclecars and custom motorcycles. Honing his skills through the years as an ASE Certified Master Diesel Technician, Industrial Service Technician, and eventually in management, including managing a truck dealership and Technical Service Manager in the Heat-Transfer Industry for a Fortune 100 Company.

Buffalo Hydraulic and Jack Service
With nearly 70 years of experience, buffalo hydraulic jack service has the knowledge to offer a solution to your next high pressure/high tonnage hydraulic application. Whether your needs are a complex system to provide the necessary clamping force for machining a casting, lifting a locomotive, bridge or building, or a custom designed hydraulic press for maintenance or production, buffalo hydraulic jack service would be glad to work with you.

Elmar Industries
Elmar® was founded in 1966, incorporated in 1972 and is now the largest manufacturer of filling machines in the world. Elmar® designs and manufacturers fillers, filler/closer systems and electronic control systems in 100,000 square feet of office, engineering, electronics, fabrication, inventory and manufacturing space at our world headquarters near Buffalo, New York.

Hanson International Trucks
Hanson International Trucks is Western New York's International, Hino, and Crane Carrier truck dealership. Check out our New and Used Truck sections for pics and info on vehicles we currently have in stock!

Kids Escaping Drugs
Alcohol and Drug Dependency Services, Inc. (ADDS) was founded in 1977 to operate inpatient residential and outpatient treatment programs for persons addicted to drugs and/or alcohol.
Ten years later, the Alcohol and Drug Dependency Services Foundation, (ADDSF) commonly known as the Kids Escaping Drugs Campaign, was created with the sole purpose of raising funds for the construction and support of adolescent treatment facilities.

The Original Vinyl Graphics
The Original Vinyl Graphics, Inc. sign shop offers the best quality at the best price on vinyl signs, vehicle lettering, vinyl banners, posters, boat lettering and much more.
From an idea to a completed design. We have been giving clients in Western New York and other parts of the county a professional and exciting image for several years. Designing and creating signs and graphics with distinct quality and style!

Slivers Mill
Warm your home or office with elegant charming rosette and plinth blocks to create an atmosphere from years ago when life was perhaps a little less hectic. Whether your style is Victorian, Colonial, Country or Modern these wooden decorative blocks will add sophistication to your renovation, restoration, and remodeling projects. Styles include several bullseye patterns and our popular embossed treatment for custom interior millwork.

Kohler Awning
Kohler Awning uses only the longest lasting materials, guaranteed to outlast the hottest suns and the toughest winters, sheltering you from harmful UV rays and keeping you 8 degrees cooler.

The Schwartz Group
The Schwartz Group is dedicated to providing companies that market to healthcare settings a professional alternative to traditional call center telemarketing. Our core competencies include marketing pharmaceuticals, medical devices and services. If your application includes Physician tele-detailing, Hospital/Pharmacy or Clinic tele-sales, or one of our highly defined campaign templates - We promise you'll receive the highest levels of professionalism and result orientation possible.

SuznO'
We make fashion more "user-friendly" with our personalized service
We carry a wide variety of accessories from around the world such as jewelry, handbags, belts and hats
We dress you, the real woman and haven't forgotten that half the women in this country are size 12 (and larger)

Hydratech
Our primary goal is to make HYDRATECH the first choice of designers with applications not covered by the catalogued products available in our industry. We will respond quickly and build a quality product, on time, at a cost that is economically in balance with the project.
Online Media offers:

Web site design and layout
Logo design
PHP/MySQL Programming

Flash design / animation
Search engine submission
E-commerce solutions